Send Inquiry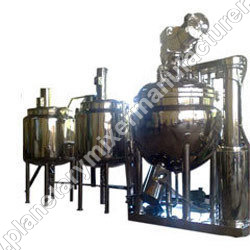 Product Specifications
Automatic

S.S. 304 or S.S.316

50kgs, 100kgs, 200kgs, etc Liter (L)

1 year

No
Trade Information
Cash Advance (CA), Cash in Advance (CID), Letter of Credit (L/C), Letter of Credit at Sight (Sight L/C)

Asia, Australia, South America, Middle East, Africa

All India
Product Description
Cream Manufacturing Plant

Owing to our innovative manufacturing ideas and timely delivery of products, we are considered as the leading manufacturer and exporter of Cream Manufacturing Plant. Manufactured under the guidance of our expert engineers employing advanced technology, these plants are widely used in cosmetic industries for formulating different creams. With the availability in varied technical configurations, our Cream Manufacturing Plant can be customized as per the application specific requirement.
Application Industries:

Pharmaceutical
Chemicals
Cosmetics industries
Pipe lines will enclose the following :

Water phase vessels to Mixing vessels via pumps.
Wax phase vessels to Mixing vessels through pumps and conical filters.
Mixing Vessels for re-movement.
Mixing vessels to Storage Vessels via lobe pumps.
Storage vessels to hop-pickers of filling devices via transfer pumps.
All pipes are circular-knitted and electroplated from inside as well as outside. Accommodations are DIN standard with silicon gaskets.
Electric Control Panels, these will consist of :

DOL starters for Anchor drives
DOL starters for HSE motors
Main isolators
Machine light switches for key Mixing Vessels
Electric Digital temperature indicators provided for all vessels
Fuses enclosed for all motors
Ammeters for HSE motors and anchors
Signaling lamps for main ON and OFF with selector switches.
DOL starting motor for propeller agitators of water & wax Phase vessels
DOL Starters provided for every pump
Pumps

Centrifugal Pumps :
Momentum : 400 liters/Hr
MOC : SS 316Q
Inlet and Outlet : DIN adjustments with T connection at inlet and outlet
The above pumps are employed for transferring wax and water to the main mixing tanks.
Bump Pumps :
Above pumps are utilized to circulate the final amalgamated cream again and again for concentrated mixing as well as to carry finished cream from Mixing vessels to storage containers. Some other important details are as mentioned below.

Variety : Twin Bump
Designing : Sanitary
Drive : Suited HP, 200 RPM gearboxes and motors
Sealing : ptfe bushes
Mounting : MOC SS304Q, Trolley mounted
Inlet & outlet : DIN fittings / tri clover at inlet and outlet.
MOC : SS 316Q for contact parts Transfer Pump Positive Displacement, Reciprocating Type and Metering Type
Above pumps are employed to transfer Cream/Ointment from storage vessels to hoppers of filling machines.

Variety : Reciprocating Plunger type
Capacity : 1000 Ltr./Hr
Drive : Proper HP, 1440 RPM
Head : 2.5 Mtr.
Mounting : Trolley affixed , MOC SS304Q
The above pumps doses metered amount of cream into the hopper of filling machines, which caters filling pace of filling machines. There is power feed back system between pump and filling machines.

Vacuum Pumps :
Above pumps are appropriate HP and capacity depending on the content of the ointment plant vessels . Watering / oil-ring type with non return valves and silencers.

Storage Tanks
The vessels will be in SS 316Q having cylindrical cone-shaped bottom. The vessel will be supplied with 40mm ball valves. Shell part will be rimmed from top & barred to top dishes with gaskets in between. All joints are union free argon arcs that are welded and inside mirror finished.

The vessels will be backed up by 4 nos. cl-added C class 3 pipes to keep 450mm ground separation. Vessel have 50mm inlet nozzles for processed vent and product entry.

Working Platforms
This platform will enclose both tanks and with SS counter sunk screws and AL dimpled plates. SS 304 Q railing on one side. There is provision of steps on any of its one side.

Material of Construction:
| | |
| --- | --- |
| Shell | 4 mm thk S.S. 316 |
| Top Flange | 16 MM THK RING S.S. 316 |
| Top Lid | Loose Type in two pieces 16 swg S.S. 316. or top dished as per clients requirement. |
| Jacket | S.S. 304. 6 mm thk with spiral stiffeners |
| Insulation | 50 mm thk glaswool cladded with with S.S 304 with 16 Swg Welded. |
| Conections | 25 NB, bottom valve, Jacket : Steam Inlet , condensate outlet, Jacket Drain with plug, Water Inlet is provided. |
| Legs | 40 NB, Heavy Guage S.S. pipe S.S.304. 4 nos. |
| Sensor | PT-100 for Digital Indicator. |
| Jacket Pressure | 3.5 Kgs.cm.sq working. |
| Stirrer | Suitable H.P. /960 R.P.M /440V/TEFC mounted on side or from the bottom of wax vessel & Water vessel. Agitator will be propeller type |
| Finish | Internal and all contact parts buffed to 240 grit mirror finish and external bufed to 150 grit matt finish. |
Wax/Oil Phase & Water Vessel Specifications
Material of Construction:
| | |
| --- | --- |
| Shell | 6 mm S.S. 316. |
| Bottom Hemispherical | 6 mm S.S. 316 |
| Top | Dish Type 6 mm Thick S.S. 316. |
| Flanges | 16 mm thick S.S. 316 |
| Jacket | 6 mm thk SS. 304 with spiral patten Stiffeners . cladded with 16 swg S.S 304 welded. |
| Gasket | silicon fitted in groove. |
| Insulation | 50 mm Thick Glass wool with 16 swg S.S. 304 cladding welded. |
| Legs | 3 nos S.S. pipe heavy guage. |
| Connection | Light Glass, Sight glass, Wax inlet, Water Inlet |
| Nozzels | Vacuum Manifold with Vacuum Gauge, Vacuum Nozzle and vent Valve, product outlet , bottom full bore ball valve S.S. 316.Jacket steam inlet, condensate outlet, Drain Plug, Cooling water inlet, Cooling Water Outlet, Manifold with safety valve, Pressure gauge etc. |
| Bottom Clearance | 500 mm from ground level to valve or as required. |
| Agitator | Anchor type S.S. 316 . driven by suitable HP dual rpm motor coupled with gear box. |
| Bearing Housing | Angular Roller Bearing 2 Nos Mounted on a Lantern support caldded with S.S. 304 sheet. S.S. 304 guard is provided. |
| Homoginizer | Bottom Entry High speed Emulsifier of suitable H.P. /440V/1440 RPM/TEFC Motor. |
| Shaft Seal | Mechanical Seal with cooling Arrangement mounted on a conical portion. |
| Sensor | PT-100 type will be provided. |
Enter Buying Requirement Details